Aladdin Playset is a playset that takes you to Agrabah. The Playset Token is shaped like a lamp, and the pack comes with Jasmine and Aladdin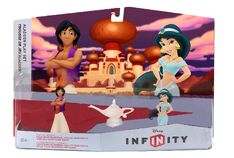 Trivia
That is the only playset that you can make a wish!
That playset have a list of wishes you can get!
Aladdin crystal figure!
Jafar can be a genie!
Missions
Go to the Cave of Wonders!
Found Jafar's lamp!
Found Genie!
Fight with the Agrabah's guardians!
Use your first wish!
Save Abu from de guardians!
Buy an elephant!
Make Abu an elephant!
Buy the magic carpet!
Fly with the magic carpet!
Found Jafar!
Make your next wish!
Get the snake staff from Jafar!
Go to the Agrabah palace!
Prevent Iago gets the lamp!
Catch Iago!
Use the last wish!
Fight whith Jafar/Red Genie!
Put Jafar in the lamp!
Story
Someone found the lamp and free Jafar,Jafar escape and save Iago,Aladdin and Jasmine saw Jafar and try to stoped him,Jafar escape from them,now they have to destroy Jafar!
Playable Characters
Gallery
Ad blocker interference detected!
Wikia is a free-to-use site that makes money from advertising. We have a modified experience for viewers using ad blockers

Wikia is not accessible if you've made further modifications. Remove the custom ad blocker rule(s) and the page will load as expected.