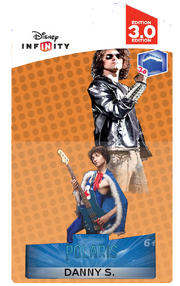 Danny
is a playable character in
Disney Infinity 3.0
. He appears as a toy box exclusive character, and is one of two Polaris characters, the other being
Barry
.
Attacks
Skill Tree
Quotes
On Spawn
"Tis I!"
"Why, hello there"
Greetings
Attacking
"Don't act like you're not impressed"
"I am the toughest ninja, that you've ever seen!"
Injured
"I cry, cry" 
Taunts
"Dragon Dance!" *Dragon Dance from Dragon Slayer*
Paint the Fence from I Just Want To (Dance)*
Ad blocker interference detected!
Wikia is a free-to-use site that makes money from advertising. We have a modified experience for viewers using ad blockers

Wikia is not accessible if you've made further modifications. Remove the custom ad blocker rule(s) and the page will load as expected.