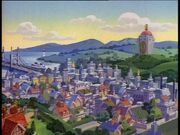 The Duckburg Playset takes you to Duckburg. The playset token is shaped like Donald's hat and comes alongside with Scrooge and Donald.
Trivia
It's the first playset where there is a wilderness
Scrooge has a crystal figure
For the first time a villian - RD helps you
Missions
Welcome to Duckburg
Put the flags
Buy balloons
Fight the Beagle Guys
RD rock
Buy the Party Palace
Bring Visitors
Not the Beagles again
The lost visitor
Introducing Daisy
Party Colors
Music for everyone
Defeating the Beagles
Story
It's time for the annual Duckburg Holidays. And this time Duckburg celebrates its hundreth anniversary! Help the mayor and other people of Duckburg make a great party and defeat the Beagle Boys, who want to sabotage it!
Playable Characters
Donald
Scrooge
Crystal Scrooge
Gladstone
Super Duck
maybe Rockerduck
NPCs
The Mayor
RD
The Beagles
Gus Goose
Daisy
Fethry
Pictures
Ad blocker interference detected!
Wikia is a free-to-use site that makes money from advertising. We have a modified experience for viewers using ad blockers

Wikia is not accessible if you've made further modifications. Remove the custom ad blocker rule(s) and the page will load as expected.