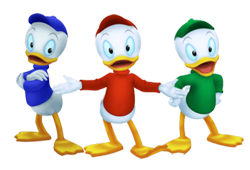 Huey, Dewey and Louie are secondary protagonists in most of the Disney Mickey Mouse and Donald Duck movies or franchises. They are playable characters in Disney Infinity 3.0 edition, and Disney Infinity 3.0: Star Wars Edition. They are playable in the Ducktales Playset and in the toy box. They are sold separately in 3.0, but sold on one figure in Star Wars Edition.
Quotes (They all say exact the same quotes)
When Spawned
- Hey, it was a ton of time before you get us back!
Please don't edit here! This page is in progress!
Ad blocker interference detected!
Wikia is a free-to-use site that makes money from advertising. We have a modified experience for viewers using ad blockers

Wikia is not accessible if you've made further modifications. Remove the custom ad blocker rule(s) and the page will load as expected.