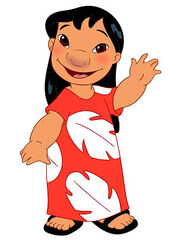 Lilo is a protagonist in Disney's "Lilo and Stitch". She also appears as a playable character in DISNEY INFINITY. You can play with her in the Lilo and Stitch Playset and in the toy box mode.
Quotes
- Aloha! My name is Lilo and am ready to play!
- Hi, Stitch! (When mentioning Stitch)
- Oh, the Meardlows! (When taking damage)
Chests
She unlocks her costume
She unlocks her house
She unlocks Nani's costume
Abillity
She hits, kicks and throws sandwiches.
Pictures
Ad blocker interference detected!
Wikia is a free-to-use site that makes money from advertising. We have a modified experience for viewers using ad blockers

Wikia is not accessible if you've made further modifications. Remove the custom ad blocker rule(s) and the page will load as expected.