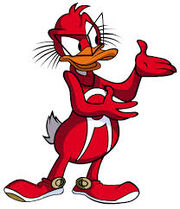 Roller Dollar is an antagonist in Disney's comic books "Ultraheroes". He is a playable character in DISNEY INFINITY. You can play with him in the Ultraheroes Playset and in the toy box mode.
Quotes
- Hello there, I am the brilliant Roker...Roller Dollar!
- Sorry Peet you'r too stupid to join me.
- Uh, an ultra idiot, you are to mess with me!
Chests
He unlocks his costume
He unlocks the money wave amulet
Abillity
He has the money wave and shoes with rockets. With them he can go faster. He throws dollars.
Pictures