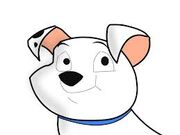 Rolly is one of the dalmatian puppies from the 1961 film, 101 Dalmatians, it's 2003 sequel, 101 Dalmatians II: Patch's London Adventure, and is one of the main characters of the 1999 T.V. Series, 101 Dalmatians: The Series. Rolly is one of Pongo and Perdita's puppies. He has a huge appetite and always eats a lot. In 101 Dalmatians: The Series, he still had his huge appetite, only he now had a blue collar instead of a red one like in the movie, and was a lot fatter then he was in the movie. He's also sometimes gets into trouble when he goes of to find something to eat. He appears as a playable character in Disney Infinity 3.0 in his own figure pack.
Abilities
He can roll over enemies like a bowling ball with an ability called, the tumble attack!
Gallery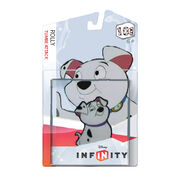 Ad blocker interference detected!
Wikia is a free-to-use site that makes money from advertising. We have a modified experience for viewers using ad blockers

Wikia is not accessible if you've made further modifications. Remove the custom ad blocker rule(s) and the page will load as expected.