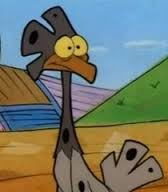 Spot is the spotted chicken who is one of the main characters of the 1999 T.V. Series, 101 Dalmatians: The Series. She along with Lucky, Cadpig and Rolly love hanging out together and their great friends. She likes Lucky, Cadpig and Rolly a lot, but she also sometimes complains a lot about what Lucky, Cadpig or Rolly do. She appears as a playable character in Disney Infinity 3.0 in her own figure pack.
Abilities
She can peck enemies with her beak.
Gallery
Ad blocker interference detected!
Wikia is a free-to-use site that makes money from advertising. We have a modified experience for viewers using ad blockers

Wikia is not accessible if you've made further modifications. Remove the custom ad blocker rule(s) and the page will load as expected.