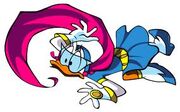 Super Daisy is a protagonist in Disney's comic books "Ultraheroes". She appears in DISNEY INFINITY as a playable character. You can play with her in the Ultraheroes Playset and in the toy box mode.
Quotes
- Need help?
- I'll help you Super Goofy!
- Two minutes and you need help, Super Duck?
- What - Roller Doller - I haven't heard about that name!
- Hello, you bad Pete!
Abillity
She can use the ultra rope. She fights in gravitation. Has a jump. Can be invisible.
Pictures
Ad blocker interference detected!
Wikia is a free-to-use site that makes money from advertising. We have a modified experience for viewers using ad blockers

Wikia is not accessible if you've made further modifications. Remove the custom ad blocker rule(s) and the page will load as expected.