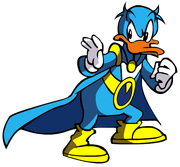 Super duck is the main protagonist in Disney's comic books "Ultraheroes". He is a playable character that you can play in the Ultraheroes Playset. You can also play with him in toy box mode.
Quotes
- Super Duck is here to help you!
- Oh, Peet how many times do I have to defeat you!
- Super Duck saves the day!
- Hey, Super Daisy ... Uh, nothing!
- Roller Dollar you're down!
- Oh no,not you Super Goofy!
Chests
He unlocks the heroes pack number 1
He unlocks the Duckburg Playset Bridge Pieces number 1
He unlocks Gladstone's vile
Abillity
He can throw the ultra rope and fly for a little bit. He has a double jump. He has a Ultra blaster.
Pictures
Ad blocker interference detected!
Wikia is a free-to-use site that makes money from advertising. We have a modified experience for viewers using ad blockers

Wikia is not accessible if you've made further modifications. Remove the custom ad blocker rule(s) and the page will load as expected.